<!PHP Block to display review !>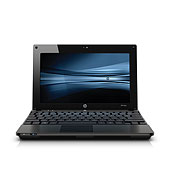 HP Mini 5102 Netbook
Review by Daniel P. Dern
HP Computer
Date: 17 August 2010

Links: HP Mini 5102 /

HP promised a lot when they introduced their HP Mini 5102 netbook late last year: a multi-touch display, integrated (not bumped out) six-cell battery, and even a handy carrying handle. Aimed at users that valued portability but wanted more than the standard netbook could deliver, we eagerly anticipated the actual product release. Now that we've had a chance to try one, we wonder where the full featured machine we were promised went, and why anyone should pay a premium for the result.

HP's Mini 5102 netbook is the smallest and lightest netbook I've tried to lately, weighing as little as 2.64 pounds, and measuring 10.3 by 7.09 inches by either 0.91 or 0.98 inches in front, depending on whether it has the Touch option. With its brushed-black finish, it's elegantly understated, it's neither dull nor flashy.

But.

When TechRevu editor Ernest Lilley and I first saw the HP Mini 5102 netbook, at a Pepcom multi-vendor press event in New York City, back in Fall 2009, it had three distinctive options: a capacitive multi-touch-enabled display, a carry handle, and a six-cell higher-capacity battery the same size as the default three-cell one.

My review unit came with none of these, and only 1GB of RAM. So while I'm reviewing the unit received on its own merits, I'm all too well aware of what more this device needs to be and could be.

The specs for the machine I'm testing are: Atom N450 1.67Ghz CPU, 1GB RAM, Windows 7 Starter 32-bit, 160GB hard drive, 2MP webcam

Other features a 10.1 inch LED-backlit display (either WSVGA -- 1024x600 -- or HD -- 1366 x 768). optional Broadcom Crystal HD Enhanced Video Accelerator, optional Qualcomm GOBI chip for EV-DO/HSPA mobile broadband, letting you choose among the carriers (not necessarily all, but most) -- keeping in mind that you can't just connect, you do need a contract or other service agreement.

The keyboard is 95% of full-size, eminently usable. I'm a good touch-typist, and my work on the computer is as much about typing email messages and into word processors as it is about mousing and scrolling around.

The touchpad is good. I'm not noticing any casual mis-brushes to it while typing, the kind that all too easily switch you into another window while still keyboarding away. The clickbar consists of separate left and right bars, rather than the one-long-one-on-a-rocker that's becoming popular.

Since this machine's targets include business, HP pre-loads a bunch of software including HP Recovery Manage, HP Support Assistant, Microsoft Office Ready, and Corel Home Office, plus HP QuickWeb and HP QuickLook.

POSITIVES:

The display is quite good. And it's delightfully portable -- the smallest netbook I've tried to date. The keyboard and display are quite good, given the machine's small size.

NEGATIVES:

Start-up is pokey-slow.

This HP Mini 5102 takes two full minutes to complete booting, and I've installed remarkably few programs, so that's not a factor.

Just running MSIE and a streaming audio window pretty much pegs CPU usage at 80% CPU usage and over. Heck, with NO applications running except Task Manager, on the software installation the machine came with, Task Manager reports 74 processors, 66% of physical memory, and CPU usage swinging between 0-1% and 65, 85, even 90%, over the span of a few seconds.

Even simply using the "search" window of the Windows 7 Start Menu -- arguably one of Win7's most useful features -- takes agonizing seconds to respond on this machine, versus every other Windows 7 machine I've tried, where it's been almost instantaneous.

That's largely the fault of the meager 1 gig of RAM... but HP shouldn't be selling a machine this expensive that doesn't work well enough.

Similarly, the battery life for the three-cell battery is three hours at best. This means you really need to have the AC power supply with you -- fortunately, it's relatively uncumbersome. And you need to be religious about plugging the AC in at every opportunity. And also making sure you haven't inadvertently closed it in some state where Windows can't Hibernate. One time I that I did this, I'd left the machine in the small carrying case I'm using, and it got remarkably hot. And another time, when I'd brought the machine along to work while waiting for an appointment -- having left the AC adapter behind -- there was no charge left. Tsk.

The smaller space for the keyboard means that the arrow keys (at the bottom right) have to do double-duty as Home/End/PageUp/PageDown -- not a big deal.

SUMMARY: NOT GOOD ENOUGH, NOT CLEAR WHO'D PAY THIS MUCH

At $650-ish, this machine as configured isn't worthwhile. With 2GB of RAM and the long-life, which would probably bump it up in the $700 range (not counting tax, added warranty, et cetera) it's probably a good, perhaps even great machine -- but still pricey.

HP is targeting this machine at the business secondary-PC market and the student market. I don't see either group paying this much for an expensive underperforming machine. (I'm not sure how many students would spend this much in any case.

It's also hard to tell how serious HP is about selling this machine. I can't find it by navigating their web site under the sundry notebook/netbook categories -- to be fair, HP, like most vendors, seems incapable of presenting prospects with products by name/model, only by categories like size, market segment.

Using the site search for "Mini 5102" finds it... but the configure/buy links don't go anywhere productive. There is a Mini 5103... but it, too, doesn't seem to be available from HP. And while you can find the 5102 via Amazon, the vendor's not offering it is not a good sign.

Sigh. And this netbook had such promise...
---