<!PHP Block to display review !>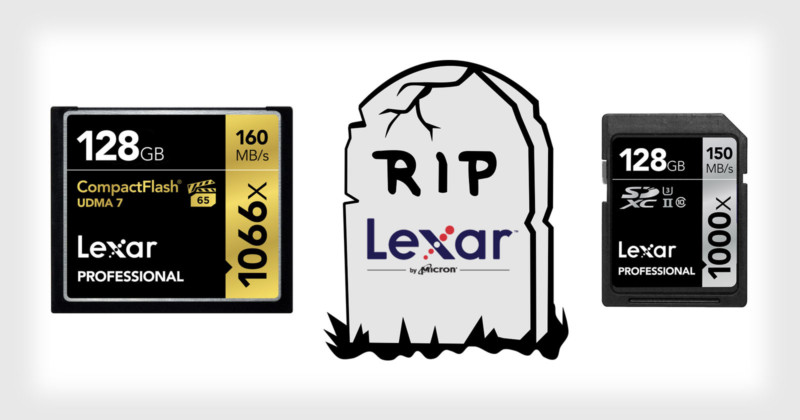 R.I.P. Lexar Memory Cards by Michael Zhang
Review by Charles Mohapel
PetaPixel.com, Lexar Media ISBN/ITEM#: CM170627MICRON
Date: 27 June 2017

Links: PetaPixel.com Article / Lexar.com / Show Official Info /



To say that we're stunned to read that Micron is shutting down their entire line of Lexar brand products, is to say that the HMS Titanic hit ice. To quote our British friends, we're gobsmacked! Not only will we no longer being able to buy the excellent Lexar memory cards (CompactFlash (CF), CFast, SDXC, SDHC, etc.), USB flash drives, memory card readers, and storage drives, but what will happen with regards to the rare defective product? Hopefully, PetaPixel's speculation that someone else will buy Lexar, lock, stock, and barrel comes true.

If you're a fan of using Lexar memory cards in your cameras, there's some sad news for you today: they're being discontinued. Micron, the parent company of Lexar, is announcing that the entire Lexar removable storage retail business is being shuttered.

"The decision was made as part of the company's ongoing efforts to focus on its increasing opportunities in higher value markets and channels," Micron writes on its blog.

In addition to the widely used memory cards, other products in the Lexar lineup that are being killed off include USB flash drives, memory card readers, and storage drives.

We're hearing that huge business from other revenue streams had made Lexar's consumer-facing business relatively insignificant.

"Apparently Amazon and Google have been buying so much flash memory from them that there is no need for push for the retail side of things," one industry retail source tells PetaPixel.
---
Loading

© 2002-2018TechRevu

advertising index / info
Our advertisers make TechRevu possible, and your consideration is appreciated.
<!- Our Pubs Ad Column -->

Our Other Pubs:
<!- End Our Publs Ad Column -->

<!- Google Adsense Skyscraper --> <!- End Google Adsense Skyscraper -->